Compare Upper vs. Lower Antelope Canyons Side-by-Side
Cannot decide between the Upper and Lower Antelope Canyons?  Confused more after reading different articles and opinions online?  Follow this simple guide to compare Upper vs. Lower Antelope Canyons and decide which one to visit.  If you plan them right, you can visit both and even pack in Horseshoe Bend in the same day.
Both canyons are amazing slot canyons formed by the force of moving water.  They are very different because of their shapes which lead to the lighting condition inside the canyons.  If you can only visit one, you won't regret either.  But we have our clear preference after visiting both.  We will compare them for you…
What Makes Them Different – the Shape:
Upper: A-shape canyon.  Wider on the canyon floor so you will probably shoulder-rub a lot of tourists in this canyon.  The narrower top allows less light come into the canyon.  The best lighting is when the sun directly shines over the top.
Lower: V-shape canyon.  Narrower on the canyon floor so traffic goes one way and mostly a single lane.  Less bumping into other visitors in this canyon.  The wider top allows the sun to shine into the canyon for longer period during a day.  Lighting is much better here and visiting window is wider as a result.
Tour Providers and Costs:
Upper: There are multiple tour providers for the Upper Antelope Canyon.  We went with Chief Tsosie's Tours.  Another one is Antelope Canyon Tours.  We took the 1:00PM tour for $78 per person.  The 10:30AM and 1:00 tours are considered prime time tours so cost a little more.  In our opinion, if you cannot visit the Upper Antelope between 10:30AM to 2:00PM, it may not be worth the money due to the low-light situation.  To reserve these good time slots or the photographer's tours, we highly recommend to book online far ahead.  Antelope Canyon Tours offer better time slots but were sold out when we booked online.  Allow 2.5-3 hours in total for the Upper Antelope Canyon.
Lower: Ken's Tours is the only provider who can take visitors into the Lower Antelope Canyon.  Ken's Tours sits on top of the canyon entrance.  You will park your car in their parking lot and the tour guide will walk the group to begin the tour.  We booked a general tour online for $25 per person.  (Believe there is a price increase to $40 on 1/1/2018.)  We highly recommend reservation on their website.  Allow 2 hours in total for the Lower Antelope in case of any delays.
There is a $8 Navajo Parks fee for Antelope Canyons.  Pay at the first canyon you visit and present the proof of payment to the next canyon to avoid paying twice.
Best Time to Visit and the Logistics:
Upper: 11AM-1:30PM but as close to noon as possible.  You will be riding the tour provider's open-air truck to the entrance.  The ride is dusty and about 20 minutes.  A bandana and sunglasses to cover your face are essential to bring on this tour.
Lower: Pretty good all day as long as the tours are offered.  We suggest late morning or early to mid-afternoon to avoid the heat.  See our suggested itinerary below.
Photo Tips:
Upper: Unless you can take the extended and much more expensive photographer tour, you cannot bring a tripod into the canyon.  So your DSLR functions cannot be maximized in this low light environment.  A good phone camera is more tolerant to lower light so we recommend that.
Lower: Your guide should point out the best photo spots along the way.  They will help you to set your camera or photo settings to get the best colors.  In our opinion, our iPhone 7 Plus did an amazing job.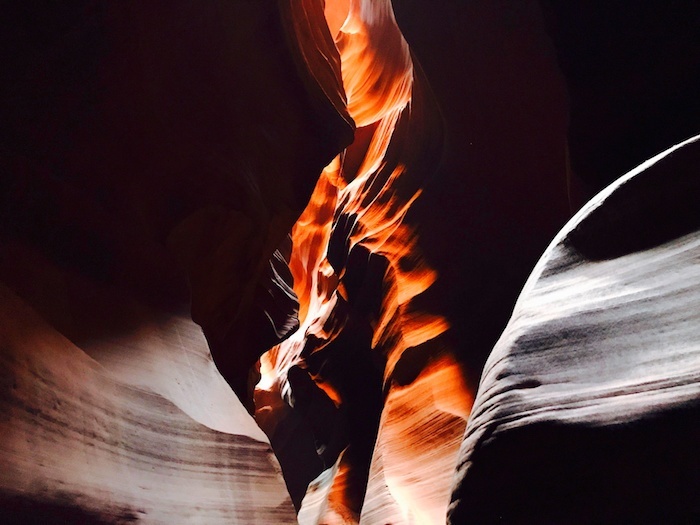 Drumroll…  The Winner:
The Lower Antelope is the clear winner to us.  It is a combination of: photo quality + tour guide interaction + cost + flexibility + no dusty truck ride + less shoulder-rubbing with other visitors + the magical feeling of popping out of the ground at exit.
Suggested Itinerary:
9AM-10:30AM: Horseshoe Bend.
10:30AM-1:30PM: Upper Antelope Canyon.  Aim for tours starting between 10:30 to noon so you will get into the canyon 30 minutes later.
1:30PM-4PM: Lower Antelope Canyon.  Aim for 2PM instead of 4PM for better lighting.  If you arrive Ken's Tours earlier than your reservation, ask them to fit you into an earlier tour.  If your group is not very large, they can accommodate most likely.
Then, if you are not a morning person to catch the sunrise at Horseshoe Bend in the morning, you can now head there to see the sunset.
A Few Important Things to Note:
There are some stairs to climb since the Lower canyon is "underground".  You will enter the canyon from the ground-level via a long and fairly steep steel stairway down into the canyon.  We had some elder folks and people afraid of heights in the front.  It took them a while to get through.  Now, we understand why the Lower Canyon tours run higher risk of delay.

The acrophobic or less mobile visitors are the cause of delay on the Lower Antelope tours. Be patient and careful!

Wear comfortable walking shoes especially if you do Lower Antelope and Horseshoe Bend.
Bring sunscreen, water, sunglasses and a bandana.
Don't forget to tip your guides if they do a good job.  A good guide will absolutely enhance your visit experience!
Set your phone camera in Chrome mode to get the most vibrant colors.