The Ultimate Planning Guide for the Grand Canyon Rim-to-Rim Day Hike
Hiking the Grand Canyon rim-to-rim in one day could be a bucket list item for a lot of hikers.  While it is hugely rewarding to accomplish this epic hike within a single day, it can be challenging and frustrating for those do not plan and prepare carefully.  First of all, this hike should not be taken lightly even by people in great physical shape due to below conditions:
25 miles in length
10,000 feet in elevation change
8,000 feet at the highest altitude
12-15 hours in duration
60 degrees in temperature swing (possibly high in the 100's while low in the 30's)
Unpredictable weather conditions in the canyons
Challenging logistics planning and limited lodging options
Managing minimal but sufficient gears and supplies
Unreliable water supply
With the right planning and preparation, this is a hike you will remember and brag about forever.  Follow our simple guide to take care of the hard part – planning logistics and lodging.  So you can be on your way to enjoy this incredible experience!
The Best Time to Hike Grand Canyon Rim-to-Rim
Most people do this hike in May to September.  While June, July and August can be very hot, the tradeoff from May and September could be possible snow chance.  In that case, North Rim can be closed.  We did our hike in mid-September and we couldn't have picked a better time.  We dodged the extreme temperature challenges – 20s on the North Rim before sunrise and the 110s in the inner canyon in early afternoon.  So, try to go in the shoulder seasons if possible (around mid-May and mid-September).
PLAN AHEAD.  Securing lodging near both trailheads is the most critical and difficult part.  Supplies are limited, especially on the North Rim, so plan at least six months ahead.
South to North Rim or North to South Rim?
Hard to judge which is better for you.  However, we did North to South for three reasons:
It is easier.  The North Rim is higher elevation than the South Rim.  So coming out of the south side has less ascend at the end and less altitude influence.
We want to avoid the Box in the hottest part of the day  The Box is a stretch of the north side contains a lot of heat and has no tap water supply.
Lodging limitation.  The real hard constraint is finding a room on the North Rim so we had to go with the dates available.
Otherwise, you cannot go wrong either direction.  We encountered many hikers coming from both directions.
There are many posts on which of the two trails to take on the south side so we won't explain in detail here.  We took the Bright Angel Trail instead of the South Kaibab Trail on our way up and out because of the water supply situation.
Transportation and Logistics from Rim to Rim
Good and bad news here: options are limited which makes it a simple decision.  After we exhausted tons of research and creative ideas, we narrowed it down to two options.  One is to take a shuttle ride from one rim to the other on the day prior to the hiking day, and hike back to where your car and belongs are.  The other is to hike rim-to-rim-to-rim in two days.  We don't recommend the roundtrip hike because you will be looking at the same scenery mostly and the physical exhaustion can sink in on the second day.  Unless you will have family and friends taking you to one rim and picking you up on the other side, we recommend the shuttle service.
We used the Trans-Canyon Shuttle company which runs two trips each direction per day seasonally between the South Rim Bright Angel Lodge and the North Rim hotels.  Find out their schedule here.  You can book on their website with a credit card easily.  They have a reasonable cancelation policy in case your plan changes.  It is the only company providing the rim-to-rim service when we visited.  Clean vans, professional drivers and reasonable cost for the distance they have to take you.
It is a 4-5 hour ride.  The scenery is beautiful through the entire journey.  We even got to see some buffalos before arriving the North Rim.  The drivers will stop 2-3 times to refuel and allow passengers for bio-breaks.  If you bring a book to read on this ride, just remember you will have to carry it back on your hike.
Lodging Options on North and South Rims
You cannot avoid spending at least one night on the rim where you start your hike.  Ideally you will have to leave most of your belongs where you end up your hike.
On the South Rim, there are several lodges you can choose from that are in walking distance to the trailheads.  They are all owned by and booked directly through Xanterra.  They most likely won't come up in search results on bookings.com or similar platforms.  In our opinion, the Bright Angel Lodge is at the best location.  But all these properties are near or connected along the rim ridge.  Staying near the trailheads is highly recommended.
The Grand Canyon Lodge, operated by Forever Resorts. is by far the best choice on the North Rim.  But keep in mind it is still 2.2 miles from the North Kaibab trailhead.  Which means you will have to walk on the main road for almost an hour before or after your hike officially start or end.  We definitely recommend to arrange drop-off or pick-up to save time and energy for the trails.  Our gracious driver from the Trans-Canyon Shuttle offered us a ride at 3:45AM from the lodge, which saved us almost an hour to backtrack on paved road   Your next choice would be Kaibab Lodge which is 15 miles away from the trailhead.
If you plan to hike from North to South and spending the night at the Grand Canyon Lodge, we highly recommend you make a dinner reservation in the restaurant.  The seating is very limited.  Enjoy a sunset from the dining room and outside patio is incredible!
How Long Will the Hike Take and What Time Should You Start?
We recommend to start the hike no later than 4:30AM.  It would be most likely pretty dark when you start the hike, so a good headlamp is crucial.  If the weather is clear, don't forget to stop once a while to watch the starry sky.
I took us 12 hours to hike through.  You don't want to feel rushed along the way.  Take breaks intentionally to replenish water and salty snacks.
If completing this hike within a day doesn't sound enjoyable to you, break it down into two days with a one-night stay in Phantom Ranch (which requires even earlier planning and a bit of luck in its lottery system).  Or, you can really take your time to backpack into the canyon and spend a few days to enjoy the natural beauty around you.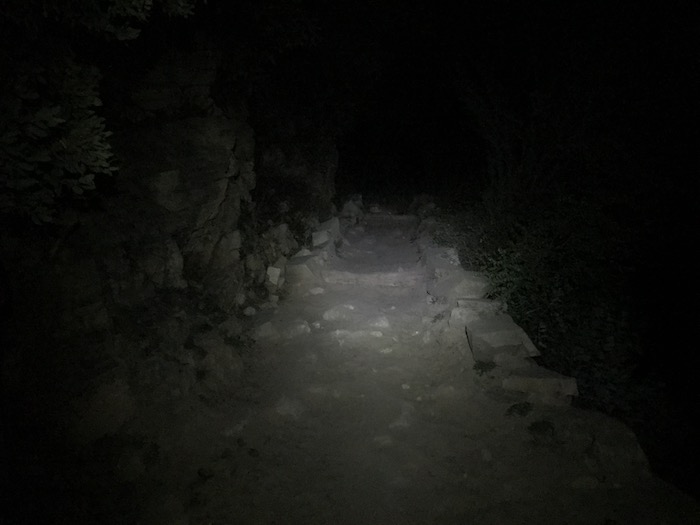 Finally, Our Itinerary for Your Reference
Day 1: Arrived the South Rim Village in the afternoon.  Spent one night at the Bright Angel Lodge.
Day 2: Spent the morning in South Rim Village visiting the South Rim, museums and shops.  Checked out and left our car and most belongs in the car parked in Bright Angel Lodge's parking lot.  Picked up by Transcanyon Shuttle in the lobby of Bright Angel Lodge at 1-1:30PM for the North Rim.  Spending one night at the Grand Canyon Lodge.
Day 3: Picked up by our driver at 3:45AM and started the hike a little after 4AM.  Hiked through coming out of the Bright Angel trailhead.  Walked to our car and checked into Kachina Lodge (Bright Angel Lodge was not available.)  Crawled into shower
We had only a month and half to plan for this trip so we had to scramble around the hotels a bit.  If you plan further ahead, you should have more options.
It's an incredibly rewarding experience to complete this Grand Canyon rim-to-rim hike in one day!  Drop us a comment to share your experience or a question if you are currently planning to go.