MUST-VISIT Greek Islands: Santorini and Mykonos in 5 Days (inc. Delos)
Santorini or Mykonos? Why not visit BOTH on your first trip to Greece? Our itinerary takes you thru Santorini and Mykonos in 5 days with a bonus trip to Delos. Santorini and Mykonos are very different. Even though Mykonos is known for nightlife, it offers tremendous natural beauties and better beaches than Santorini.
How many days to spend in Santorini and Mykonos for first-time visitors? We think 2 to 3 days per island is a good amount of time on your first trip to Greece.
Day 1: Arrive in Santorini
Either arriving by plane or ferry, we highly recommend booking a taxi or a pickup service with the hotel prior to arrival for two reasons: 1. There are only 36 taxis on Santorini to serve 2 million tourists per year. 2. Most Caldera-side hotels are somewhat distant and hard to find from where taxi must drop you off. Let the hotel know when you will arrive and they will send staff to pick you up and help you with the luggage.
Instead of staying in Fira, consider staying in Firostefani, a very small town between Fira and Oia. While it is much quieter than both Fira and Oia, it is not lack of high-quality lodging, restaurants or shops. We loved our stay at the Chic Hotel Santorini in Firostefani. It has exceptional reviews from many travelers.
After checking into your hotel, start exploring around Fira along the cliffside walking path. Have a cold cocktail in one of the outdoor bars with a breathtaking Caldera view.
For dinner, make a reservation for a table with a sunset view. "Venture" into some Greek delicacies like saffron rice stuffed squid and grilled octopus with mashed fava beans. YUM!
While sipping your cocktail, watch the sun start setting behind the Caldera. Even though the Oia sunset is the most famous on Santorini, the sunset from Firostefani is far more impressive with this interesting background, brilliant color contrast, and far less tourist crowd.
Santorini lives up to its romantic reputation especially in the evening. The restaurant brought blankets to guests who want to enjoy the evening on the terrace after sunset.
Day 2: Explore Santorini from Fira to Oia
Wake up to a beautiful spread of made-to-order breakfast with a Caldera view. Don't get too used to it… Below is a breakfast included in the room rate of Chic Hotel Santorini. All ingredients taste so fresh. And picture below speaks for the view!
After the breakfast, start walking toward Oia. From Firostefani to Oia, the distance is just short of 6 miles but plan on three hours with stops to take photos. Wear sun protection and good walking shoes. We saw people struggling in their TOMS and sandals.
If around lunch time just before entering the town of Oia, take a downhill detour to Amoudi Bay where a tiny fishing villiage sits by the sea. Enjoy a fresh seafood lunch watching boats go in and out of the bay. Maybe dip your toes into the sea to reward your feet after the long walk.
After lunch, follow the steps straight up to Oia. It is a good exercise to burn off a few calories from lunch. Start hunting for the famous blue-domed church that shows up in every picture online. Try to catch bright sunlight to get the most vibrant color contrasts. (We got there a bit late so the domes are partially covered by shadow, but still beautiful and magical.)
In hindsight, we would have booked a private photographer to take some postcard-like photos in Santorini. It is worth spending 200-300 dollars because it may be the only time you visit Santorini in a lifetime.
Roam through many shops and cafes to find your way to the viewing spot before the sun starts setting. Be aware that almost everyone around you is heading to the west point of Oia town too. It is very crowded around every corner.
Getting back to your hotel could be challenging by taxi due to availability. Know the bus schedule ahead and get there earlier. The bus lines are very long because everyone is heading back toward Fira during that time. There are also "black vans" trying to make 20 euros per person in cash. It may be your quickest option.
Day 3: Travel from Santorini to Mykonos by Ferry
Head to the ferry station in the morning by a reserved taxi. Book your ticket ahead online and activate at the ferry station at least an hour prior to departure. The Greek ferry system is well developed and runs multiple trips between these two popular islands daily between April and October. It is a 2.5-hour ride with stops to couple more islands on the way. Keep in mind that the Greek ferries are not always on time. The boarding process and the luggage handling is a bit hectic. Our ferry was delayed for an hour and half. Other than that, it is an easy way to travel.
The taxi situation is even worse on Mykonos Island – only 30 in total. While we don't recommend renting a car on Santorini on a two-day stay, renting one on Mykonos makes a lot of sense.
Where to stay in Mykonos? It depends on what you want to do on your vacation. If you visit Mykonos mainly for its nightlife, stay in Mykonos Town with many bars and restaurants. If you want to relax at a quiet beach and explore the island by car, stay in a small town outside of Mykonos Town.
We stayed at Mykonos Mystic near Ornos Beach in the southwestern part of the island. The hotel/apartment is quaint with a beautiful infinity pool. Parking is easy on site. The staff is friendly and helpful.
This area is great to base yourself when visiting Mykonos. Mykonos Mystic is likely to sell out. Mykonos Moussa Suites is another great option in this area.
After checking into your hotel, head to Ornos Beach for a swim or a cocktail before dinner. Watch the boats roll into the harbor and their lights come on reflecting on this tranquil water. And just chill….
Day 4: Explore Mykonos Town & Day Trip to Delos Island
Start the day on a half-day guided tour from Mykonos to Ancient Delos, a real treasure in the Cyclades not to be missed. Take note the tours and ferries only operate seasonally from April through October. Booking this tour on Viator to reserve your space and pay less than what you can book at the port in Mykonos Town.
We chose Mykonos among all the interesting islands in the Cyclades mainly because of its easy access to Delos. There is so much to explore on Delos. Delos is uninhabited so there is not much commercialization other than a museum with a small shop. Bring sunscreen, sunglasses, hat and water. Wear comfortable shoes to walk and hike the ruins.
There is also a museum on Delos. Most of the real artifacts are kept indoor in the museum. The archeological digging is ongoing on Delos. Only a small part of the island is above ground and restored. Explore the island and imagine how ancient Greek traded with other cultures.
After returning from Delos, it's time for an afternoon snack after a lot of walking on Delos. Find a restaurant with a million-dollar view of the windmills near Little Venice.
After the refreshments, roam among the colorful narrow alleys in Mykonos Town. Every corner has a photo opportunity waiting for you. You will find plenty of souvenir shops in Mykonos Town. It's a good place to buy souvenir as you approach the end of your Greece vacation.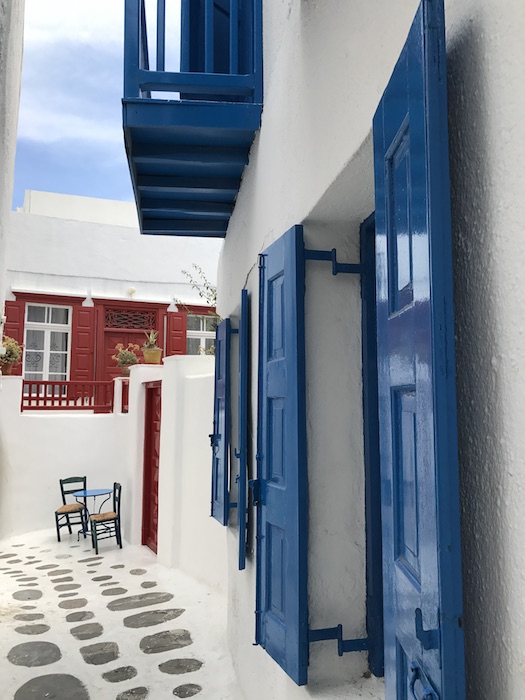 Have a cocktail or dinner while watching the beautiful sunset from Little Venice. Little Venice is waking up as the sun drops behind horizon. Join the crowd into the night scene.
Alternatively, if you want to experience Delos on a sailing trip and swim in Rhenia island, you can take this Mykonos to Delos & Rhenia Sail Cruise for the day. Move Mykonos Town from Day 5 to Day 6 after the northern beaches. Late afternoon visit, dinner, and sunset are very enjoyable in Mykonos Town.
Day 5: Visit Northern Mykonos Island Beaches
The northern part of Mykonos is well worth a visit. Pack a beach bag. Drive toward Agios Sostis Beach on the northern tip of the island. The water is the most beautiful and the beaches are quiet. So far, it is still kind of "a well-kept secret". There are a few high-end villas and more construction seems to be planned.
Drive along the dirt road to the very end. There are small beaches have no one on them. On a nice day, the water is still and you can see the bottom.
Enjoy another fresh seafood dinner on Mykonos followed by a night swim under the starry Ionic sky.
PRO TIP: Depending on weather, you can switch day 4 and 5 around. A cloudy day is good for Delos while a sunny day is good for swimming.
Leave a comment below if you have any questions or want to share your fun travel stories with us!